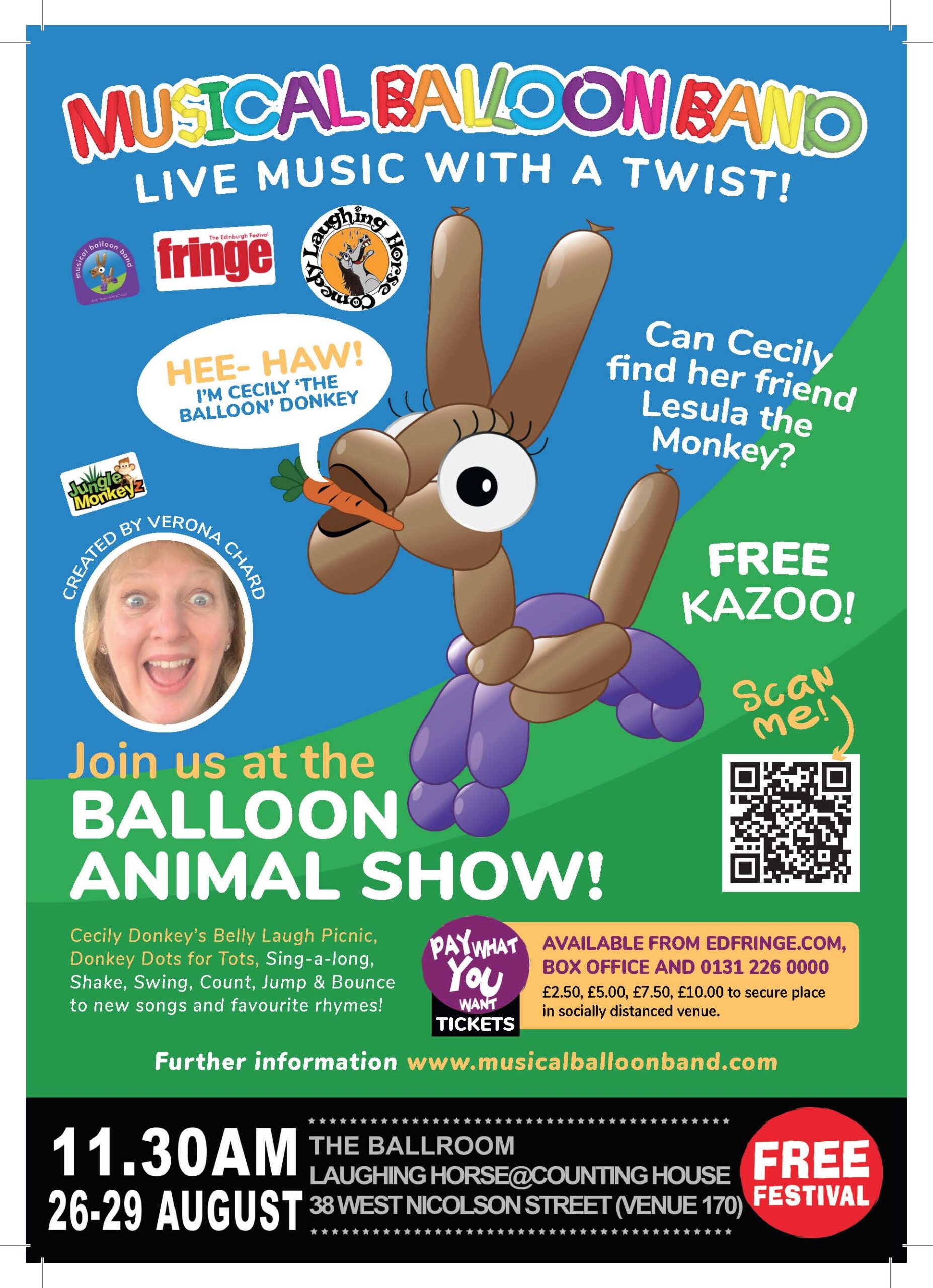 26 - 29th August
Pay what you want tickets available from EdFringe.com or call 0131 226 0000
Our Current

Shows & Stories
Cecil's Starlight Safari
An adventure with Cecil the donkey and his friends. Tailored for the under 6's and suitable for all ages. Live music, balloon modelling, FUN!
Cecil's Swing Spring Clean
Join in with our 'Tidy up Song' and 'Recycle Rhythm Challenge' to help Cecil clean the canal, save his wildlife friends and conserve the planet. Cecil's reward? A well deserved carrot treat! 
Cecil's Magical Safari - Starlight Sequel
What happens in the zoo when night falls? Lesula and Cecil meet Olive the Owl and her friends.
Up, Up & Hurray for Cecil!
Over hill and dale a tale of determination and rescue with Cecil the intrepid donkey. Live music, props, original songs, rhythm and playful FUN!
Cecil's Coastline Safari
Cecil the donkey and friends have a day out splashing around the seashore with the seaside folk.
Cecily the Donkey and Mrs Christmas' Crackers
Season mayhem and balloon animal show fun as Cecily helps with Mr Christmas' preparations. 
Cecily the Donkey's Shakey, Awakey Show
Our Shakey Awakey Show staring Cecil the Donkey is designed for a family audience. Cecil has lost his head...who's got it? Have you got it? Oberon the King has conjured a spell and BOTTOMS GOT IT! 
Spells, lost heads, percussion, movement, actions, singing, live instruments and Shakespeare!
Inspired by 'A Midsummer Night's Dream' by William Shakespeare.
Cecily the Donkey's Circus Safari
Will Cecily keep her balance at the Circus? How fast can she go? Who will she meet? Lots of interactive fun with live music, movement, balloon modelling, percussion and sing-a-long.
Cecily the Donkey's Belly Laugh Picnic
Cecily prepares a picnic but can she find her friend Lesula the Monkey?
She sets off on safari and experiences lots and lots of laughter.
Sing-a-long, shake, swing, jump, count, bounce and move to the sounds and sights in this adventure. Free / Pay What You Like Events